Quiet the mind and the Soul will Speak
- Ma Jaya sati Bhagavati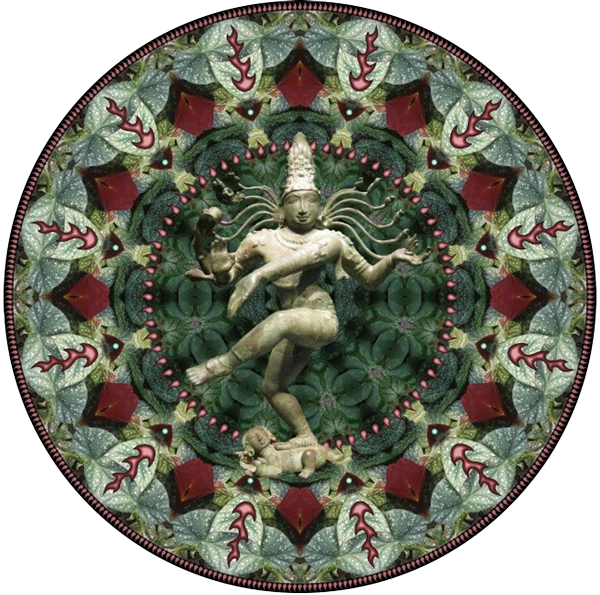 I attended a 5Rhythm style dance on Sunday morning at the Santa Fe Railyard. I hadn't been to one before and wasn't sure what to expect, but I knew I needed to go. Especially since I woke up that morning with a deep sense of sadness inside of me. I was participating in this dance ceremony at the suggestion of a friend. And, since I love to dance (especially ecstatic dancing) I thought why not?
They say that in dancing in the 5Rhythms Mandala, you can track perceptions and memories; seek out gestures and shapes; tune into instincts and intuitions. Dancing can help us reveal ways to creatively express aggressiveness and vulnerability, emotions and anxieties, edges and ecstasies.  Reconnecting us to the spirit of all living things through our natural cycles of birth, death and renewal. Ultimately this dance initiates us back into the wisdom of our bodies to 'unleash the movement's dynamic healing power.'
I arrived at the center, signed in, and walked into the room. It was a good size open room, not too big, but enough for the roughly 30 of us that gathered. For the first ~15 minutes or so we were instructed to find our place on the floor and stretch or move in whatever way one needed to land and be present. 
While 5Rhythms has 5 distinct phases, the music just flows from one to the other with some gentle, subtly powerful suggestions. It turns out that 5Rhythms transcends dance, it's more of a ceremony whereby movement is the medicine, the meditation, and the metaphor guiding us individually and collectively to peel back layers, put down our armor, and dance until we disappear into the rhythm.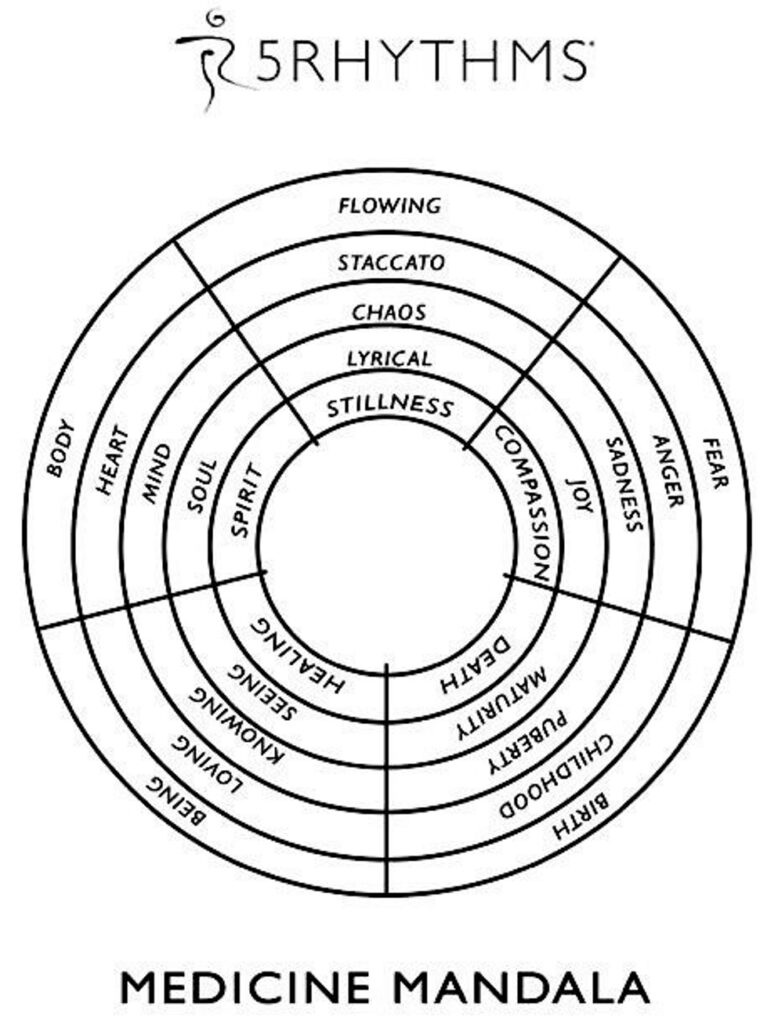 It is referred to as a dance of the mandala. Each symbol, or pattern on the outside represents different aspects of the mind – from our outer world to our inner world, and from the universe to the cyclical nature of life itself. The mandala offer us a point to contemplate life with devotion to the divine as we work ourselves inside out and outside in, until we reach the center where we are free of all dimensions. 
We start the dance on the outer ring of the mandala with FLOWING. Getting my feet grounded into the Earth as I move around the outer ring first. I started feeling the sadness that I woke up with rising up in my body. It was being represented as the sadness from my separation at birth, which is where fear comes in. Birthed from the warmth of our mother's love we are thrusted into a bright, fast, mind-filled world…and now my body doesn't want me to move around the dance floor.
"Stay here" I hear inside my mind. "Feel here" – the sadness I woke up with is getting stronger. "Just be" I hear now. As I am moving with the music, grounding into the Earth, and learning to flow without distraction of too much movement. I feel my shoulders moving, my chest, hips, legs, feet. The sadness is welling up and I want to contract. "No" I hear when I try to bring my hands to my chest, grasping at my heart and then up to my face as if to cover my tears so no one can sense me. "Be Open" I hear now, "No more closing yourself down – no more shrinking so you can't be seen." It seems as if I am here to be witnessed as I am in my sorrow and grief. I cannot even bring my hands to touch each other, I have to keep my arms open wide and expose my vulnerability. 
At this point I realize that isn't my mind talking to me, it's my heart. My heart wants to open up and be seen, felt, heard. She is tired of me closing down and making myself little by covering her up. Tears are streaming down my face and once again I want to hide, but she won't let me.
Over the next 90 minutes I flowed all around the mandala. From Flowing into STACCATO where my sadness turned into a stomping rage as I reflected on how often I close myself down from being seen, yet my heart kept loving me back open every time. Next came CHAOS as my arms flung about in an energetic release of the tension I no longer want to hold inside of me. LYRICAL brought me joy as my soul felt lighter, more free. Which enabled me to really drop into the STILLNESS of life. 
Reminding me once again that when I slow down, find that silent space, perhaps even contemplate the kiss of death – I remember the preciousness of life and fade into the center to be reborn again and again in this moment, this hour, and every day.
Dance, when you're broken open. Dance, if you've torn the bandage off. Dance in the middle of the fighting. Dance in your blood. Dance when you're perfectly free.
- Rumi